In a typical house, about 20 percent of the heating and cooling costs are caused by heat gain or loss through the windows. I know you have heard the term throwing money out the window, but this is very true if you have old outdated wooden windows. It can actually cost you more than 20% of your heating and cooling costs, if your windows are bad enough. I know they cost money to replace, but it is worth it in the long run because you will ulitmately save more money than you spent on the windows.
Savings in Dollars
If your total utility bill (gas and electric) is $2,000 a year, approximately $1,000 of that will be for heating and cooling. Approximately $200 of that is caused by heat loss or gain through the windows. Good, new energy efficient windows can save you 50 percent of that, or $100 a year.
Example of An Energy Efficient Window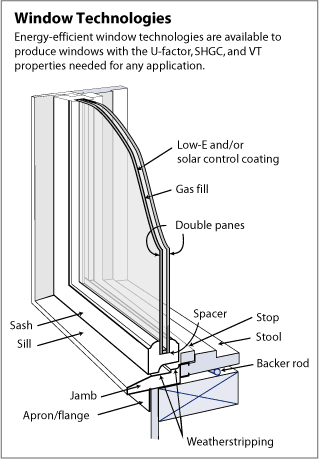 I hope you found this post about why buying new windows can save you alot of money useful! If your selling your home in Middle Tennessee, or looking to buy a home please contact Todd Taylor- REALTOR at 615-378-7253. If you're new to Middle Tennessee, I'd especially like to extend a warm welcome. Todd values his clients and provides them with honest, reliable service.